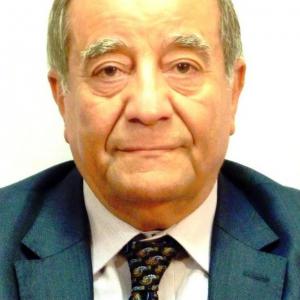 Palestinian Greek Friendship & Cooperation Association
BORN IN SAFAD 1940
LANGUAGES: ENGLISH, FRENCH, SERBIAN, AND ARABIC. 
CIVIL ENGINEER, BELGRADE UNIVERSITY (1967).
PRESIDENT OF WFEO, 2011-   
GENERAL SECRETARY OF THE GENERAL UNION OF PALESTINIAN ENGINEERS.
EX- PRESIDENT OF THE FEDERATION OF ARAB ENGINEERS (1987 - 1989).
MEMBER OF WFEO EXECUTIVE COUNCIL (1980-1984). 
VICE PRESIDENT OF WFEO (1986- 1990).
VICE PRESIDENT OF WFEO (1996- 2000).
VICE PRESIDENT OF WFEO (2007- 2011).
CHAIRMAN OF STANDING COMMITTEE ON PROMOTION AND CREATION OF ENGINEERING SOCIETIES IN DEVELOPING COUNTRIES.
MEMBER OF DIFFERENT COMMITTEES AND TASK FORCES.
JOINED WFEO (1975) DURING THE GENERAL ASSEMBLY IN TUNIS.
PARTICIPATED IN ALL WFEO GENERAL ASSEMBLIES.
AWARDED THREE TIMES BY WFEO FOR OUTSTANDING SERVICES. 
PROFESSIONAL PROFILE
CIVIL ENGINEER IN ALGERIA (1967 -1971).
DIRECTOR OF DEPARTMENT IN THE NATIONAL COMPANY IN ALGERIA (1971- 1976).
ADVISOR TO THE MINISTER OF HOUSING (1976- 1990).
MEMBER OF THE COUNCIL OF ARAB MINISTERS REPRESENTING PALESTINE.
PERMANENT REPRESENTATIVE OF PALESTINE IN UNITED NATIONS ORGANIZATION FOR HUMAN SETTLEMENTS.
TECHNICAL ADVISOR TO LATE PRESIDENT ARAFAT (1990- 1996).
DEPUTY MINISTER OF HOUSING IN THE PALESTINIAN AUTHORITY (1996 -2004).
AMBASSADOR OF PALESTINE TO GREECE (2004 2007)
TECHNICAL ADVISOR TO PRESIDENT ABBAS (2007- 2010).  
PRESIDENT OF PALESTINE MORTGAGE AND HOUSING CORPORATION
CONSULTANT IN HOUSING POLICY AND STRATEGY.
MARRIED AND HAS TWO CHILDREN (SAMER DR UROLOGIST LIVING IN FRANCE AND RASHID ARCHITECT IN JORDAN).